Build a profitable food delivery business in Hong Kong with shared commercial kitchen spaces
Shared commercial kitchens: the solution to kitchen inefficiencies and high operational costs.
Thanks for contacting us!
We'll reach out shortly so we can understand your business and needs better.
SCROLL
Establish a Booming Hong Kong Food Delivery Business Through a Shared Commercial Kitchen
Hong Kong is a bustling city where the food delivery industry is thriving. Behind the success of the restaurants reaping the rewards are shared commercial kitchens, which has enabled eateries of all sizes to discover newfound prosperity by incorporating and focusing more on deliveries in comparison to dine-in services.
Shared kitchen spaces provide an ideal launching pad to efficiently boost the delivery-only aspect of restaurants.
In Hong Kong, shared kitchens have risen to prominence as the demand for food deliveries has surged. It also enhances the way restaurants prepare and deliver food to their legions of hungry customers. Furthermore, multiple brands can be catered for in a commercial kitchen, meaning more bang for your buck.
SCROLL
Benefits
Share the Space, Reap the Rewards
Different brands may cook diverse types of cuisine, but more often than not, they use identical ingredients and need the same equipment to prepare their scrumptious dishes. A shared kitchen makes this possible, while cutting costs and saving time.
01
All the constructions and logistics are on us
Commercial kitchens are a turnkey solution, meaning you can open your doors in weeks. The time-consuming construction and installation are handled by us.
02
Create a virtual storefront
We'll handle everything that doesn't require a kitchen and help you sell more of your products. Just bring the food or goods, and we'll help you set up shop.
03
Streamline your business
Manage your entire restaurant business through a single tablet. Our app lets you access all your orders, combine all your delivery platforms, and get valuable data to optimise your business.
04
Get assistance from our team
To make scaling your business more manageable, we've got our business team here at Freshlane that is ready to support you when it comes to finding the right suppliers and remaining cost-efficient.
Your kitchen made to order
We provide shared commercial kitchens designed for all kinds of chefs and any type of restaurant looking to make their presence felt in Hong Kong. Each kitchen space is generously outfitted with all the basic essentials. Bring whatever equipment you have and love, and our experts will help you mix and match to create your dream kitchen.
Prep table
Double bowl sinks
Dry and cold storage
Commercial exhaust
Commercial hoods
Convection Oven
---
Ceiling lights
Water lines
Multiple electrical outlets
Fire safety system
Air conditioning
Internet/phone/WiFi
---
Driver pickup area
Order processing center
Receiving area
Takeaway area
Restrooms
---
Different kitchen sizes in Freshlane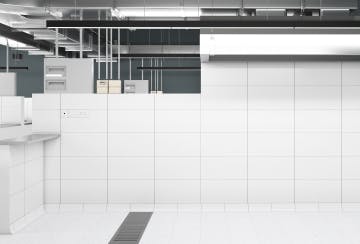 Large kitchen
~230 sq ft
Our large CloudKitchens™ Delivery Kitchens are perfect for restaurants that have already tasted a lot of success and are ready to let people in another area sink their teeth into their delicious delicacies.
Suitable cuisine

Chinese Food

Western Fast Food

Asian Food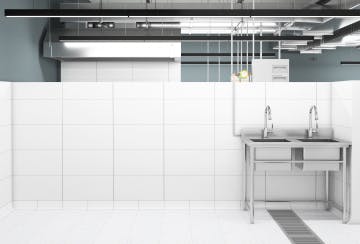 Standard kitchen
~130 sq ft
For those who have a tried and trusted concept and want to enter a new market without taking too much risk.
Suitable cuisine

Chinese Food

Asian Food

Western Food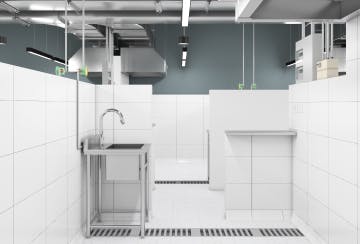 Small kitchen
~100 sq ft
Gain access to everything you need to kickstart your food business. There's little risk, but big potential rewards.
Suitable cuisine

Western Fast Food

Beverage

Asian Food
We have shared kitchens available in high-order frequency areas densely populated with regular delivery eaters. Our sites are optimised for seamless courier pick-ups and allow for orders to be dealt with in a centralised area.
Frequently Asked Questions (FAQ)
What exactly is a shared commercial kitchen?
A shared commercial kitchen is a space utilised by more than one restaurant brand to prepare food. These various brands will have access to the same suppliers and equipment to enhance their efficiency.
---
Is there a limit on the number of brands that can operate in a shared kitchen?
There is no limit when it comes to the number of brands that use shared kitchens. Many restaurant groups exist in Hong Kong and it will be up to them to decide how many brands they want using one commercial kitchen space. Ultimately, the potential is there for them to boost their operations, sales, and profits.
---
Is it possible for different brands to use the same equipment in a shared kitchen?
Absolutely! This is one of the unique selling points of Freshlane's shared kitchens in Hong Kong. From suppliers, ingredients, and the cooking equipment used to create delectable food, everything can be shared between different brands.
---
How do I move into a shared kitchen?
First and foremost, you should have an idea of how many brands will run from the shared kitchen space you want to rent. Based on this, you can identify a kitchen unit of the right size that addresses all your business's needs.
---
How much does it cost to rent a shared commercial kitchen in Hong Kong?
The cost will vary depending on the size of the commercial kitchen. If you need a bigger space, the rent will be higher and vice versa. Should you have any questions about finding the right shared kitchen space or renting one out, don't hesitate to get in touch with us.
---